ANNOUNCEMENT
Relaunch of the medical Online Triage facility
***Update on the medical online triage trial***
Our trial is coming to an end and will close this Friday. We will audit the findings of the trial and we plan to have the medical side opened fully by early 2024. The admin side is still open 24/7 for any admin queries. For more information visit our website.
---
Dear Patients
Due to the demand and popularity of our online triage, we are looking to re-introduce the medical aspect of the system. This means that once again you will be able to contact us via our website regarding a medical matter. Currently, only administrative queries are received in this way.
However, as we learned from previous experience, we would like to do it in a more controlled and productive way. We understand that having a system that does not meet the expectations of our patients adds to the frustration (as previous survey results show) and therefore before we open it fully once again, we would like to iron out any possible difficulties before we re-launch it.
With this in mind, we will run a trial for 4 weeks, starting from Monday 6th November.
The option to submit your medical request will be open Monday-Friday from 6.00 a.m. and will close at 9.00 a.m. or once 20 requests have been received. Please head to our website www.oldstationsurgery.co.uk and select Online Triage or go to the messages section on the NHS app to submit your clinical query.
We will carefully review this system each week during the trial and make adaptations as needed. Once the trial is finished, we will audit it fully with the view of relaunching it at the beginning of February 2024.

Thank you for your support with this. OSS Team.
Current demand continues to exeed capacity.
We are under extreme pressure due to a combination of high demand, staff sickness, unfilled vacancies, and lack of GP locum availability.
Please consider how to access the appropriate help.
If we are full for the day you can still use Get medical help - NHS 111 or call 111 and you will be assessed on the basis of clinical need and urgency.
You can also access your local treatment centre through 111 Urgent care services - NHS (www.nhs.uk)
Your local pharmacy can help you with advice and minor ailments. Find a pharmacy - NHS (www.nhs.uk)
Thank you for your understanding and patience.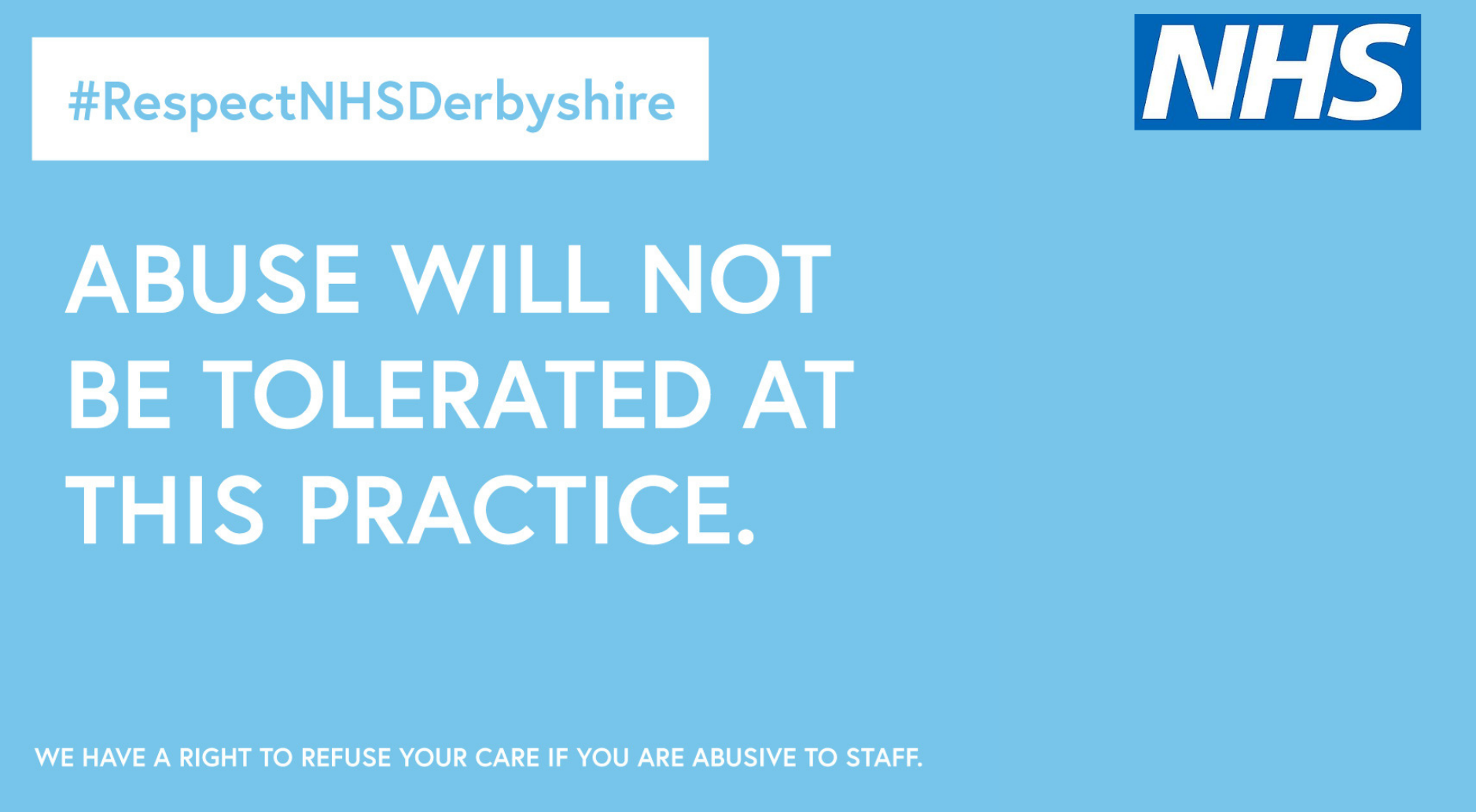 Respect NHS Derbyshire
Our staff are trying to give you the best quality care. Abusive behaviour will only reduce the quality of care you receive, please think before you speak to staff. Our staff have the right to refuse your care if you are abusive towards them.
Abuse means shouting, swearing, homophobic or racist language & nasty comments.
If you think we can improve the way the practice operates, please ask to discuss your comments with the practice manager. They can try to resolve your issue, or improve to give you the best care possible.
Our vision and values
We strongly believe in working cohesively in a caring and supportive environment. We strive on supporting people to achieve their full potential through personal development.
With regards to patients and the way we run our services, we strive to achieve the following 5 Ps:
Promise to do our best for patients by
Providing the highest standard of care
Promoting Patient Participation & Patient wellbeing
Practicing highest standards of hygiene
Protecting patient confidentiality & integrity
Welcome to Old Station Surgery
Have Your Say
Compliments, Suggestions and Complaints
Keep Up To Date With The Latest Practice News
Newsletter
To receive future editions of the newsletter straight to your inbox sign up below.